SFL Season 2 has begun!
Neo-Realms | November 17, 2019, 11:10 pm
SFL has begun! Be sure to log into your personal SFL page to check for matches due before next week. All of your matches are available to fish whenever you like for the entire season, so you can schedule around the holidays. Be sure to keep checking for upcoming match deadlines. The first match, unless you have a bye week, will be due before next Monday. Good luck to all the teams!
---
SFL Season 2 Open for Registration
Neo-Realms | October 31, 2019, 8:00 pm
The Solo Fishing League is open for registration! It will have the same format as the TFL, with players competing against other players in their group in a 10-week match format. Registration ends Sunday, November 17th. For more information or if you are interested in sponsoring, contact Sweegy Manilow.
---
SFL Season 2 Registration Opens Soon!
Neo-Realms | September 15, 2019, 11:06 am
SFL Season 2 will be registering soon! If you would like to sponsor the SFL for this season, please contact Sweegy Manilow.
---
TFL Season 13 Registration is underway! Sponsored by Camp Snuffy!
Neo-Realms | March 9, 2019, 12:40 pm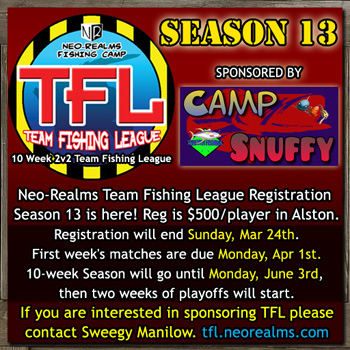 TFL Registration is now open in Alston! Registration is $500L per person and will end Sunday, Mar 24th. Feel free to take a copy of the TFL info board next to the registration vendor, it will update with TFL scores and news weekly!

One thing new in Season 13 is that all matches will be available to fish at the start of the season. Matches will still have a deadline depending on the match week, but you may fish them at any time in case you are unable to compete during a particular week.

The Neo-Realms Team Fishing League (TFL) is a competitive, team-based tournament league for Neo-Realms Fishing. Players compete in 2v2 matches over the course of a season, with over $12,500L + all registration fees in prizes going to the top teams and league victors. Grab a partner and register today!
---
SFL Season 1 Final Results!
Neo-Realms | November 15, 2018, 5:21 pm
Congrats to Carol1313 Greenwood, the first champion of the Solo Fishing League! A huge thanks to everyone who participated as well as our league sponsors. SFL will be returning after the next TFL Season!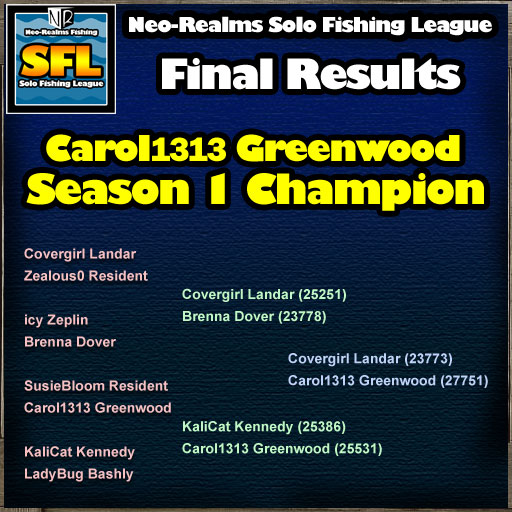 Here's the prize earnings for this season:



Carol1313 Greenwood ($4270L) : SFL Champion and 2nd in Red Division
Covergirl Landar ($3370L) : SFL Runner-up and Purple Division Champ
Kalicat Kennedy ($1620L) : SFL Semi-finalist and 2nd in Blue Division
Brenna Dover ($1620L) : SFL Semi-finalist and 2nd in Green Division
Zealous0 Resident ($1850L) : SFL Quarter-finalist and Blue Division Champ
icy Zeplin ($1850L) : SFL Quarter-finalist and Red Division Champs
SusieBloom Resident ($1850L) : SFL Quarter-finalist and Green Division Champs
LadyBug Bashly ($1150L) : SFL Quarter-finalist and 2nd in Purple Division
GJackie Winkler ($470L) : 3rd in Blue Division
Lacey Latrell ($470L) : 3rd in Red Division
ItsfrancoisUba Resident ($470L) : 3rd in Green Division
Hateinside Blackheart ($470L) : 3rd in Purple Division
BCTigercat Resident ($235L) : 4th in Blue Division
Angelina Maradona ($235L) : 4th in Red Division
Monia Larsson ($235L) : 4th in Green Division
LillyPaine Resident ($235L) : 4th in Purple Division
---