Welcome to Season 2 of the Neo-Realms Solo Fishing League for Second Life!
The Neo-Realms Solo Fishing League (SFL) is a competitive tournament league for Neo-Realms Fishing. Players compete in 1v1 matches over the course of a season, with prizes going to the league victors.
Season 2 has started!
Latest News
Season 2 Final Results
Neo-Realms | February 14, 2020, 9:43 pm
Congrats to KissMyPixelatedBum, the SFL Season 2 champion! Thanks to everyone who participated this season. TFL registration coming soon!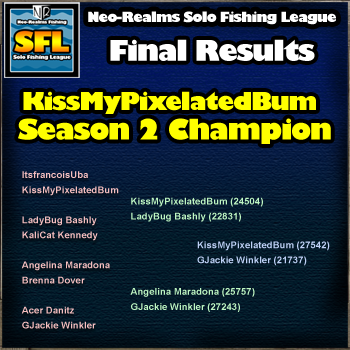 Final Winnings:


| | | | | | |
| --- | --- | --- | --- | --- | --- |
| KissMyPixelatedBum Resident | 1st SFL | 2nd Blue Div | 3165 | 720 | $3885L |
| GJackie Winkler | 2nd SFL | 2nd Purple Div | 1740 | 720 | $2460L |
| Angelina Maradona | 3-4 SFL | 1st Red Div | 778 | 1333 | $2111L |
| LadyBug Bashly | 3-4 SFL | 1st Green Div | 778 | 1333 | $2111L |
| ItsfrancoisUba Resident | 5-8th SFL | 1st Purple Div | 343 | 1333 | $1676L |
| Acer Danitz | 5-8th SFL | 1st Blue Div | 343 | 1333 | $1676L |
| KaliCat Kennedy | 5-8th SFL | 2nd Red Div | 343 | 720 | $1063L |
| Brenna Dover | 5-8th SFL | 2nd Green Div | 343 | 720 | $1063L |
| Dylan Mackenzie | | 3rd Blue Div | | 435 | $435L |
| Carol1313 Greenwood | | 4th Blue Div | | 218 | $218L |
| Borg Capalini | | 3rd Red Div | | 435 | $435L |
| LillyPaine Resident | | 4th Red Div | | 218 | $218L |
| poison Scribe | | 3rd Green Div | | 435 | $435L |
| icy Zeplin | | 4th Green Div | | 218 | $218L |
| dazzleme2 Resident | | 3rd Purple Div | | 435 | $435L |
| Maankind Benelli | | 4th Purple Div | | 218 | $218L |
---
SFL Season 2 Week 9 Results: Playoffs start!
Neo-Realms | January 21, 2020, 4:03 pm
The regular season is over and playoffs have begun!

ItsfrancoisUba Resident vs. KissMyPixelatedBum Resident
LadyBug Bashly vs. KaliCat Kennedy
Angelina Maradona vs. Brenna Dover
Acer Danitz vs. GJackie Winkler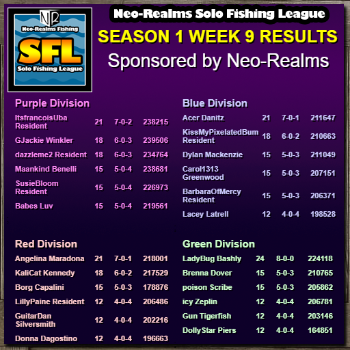 ---
SFL Season 2 Week 8 Results
Neo-Realms | January 15, 2020, 7:30 pm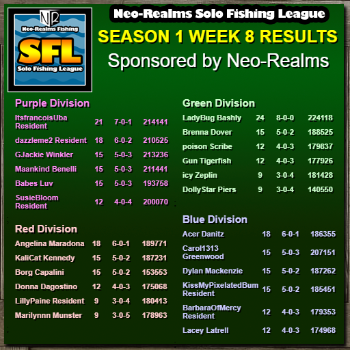 ---
SFL Season 2 Week 7 Results
Neo-Realms | January 10, 2020, 10:10 pm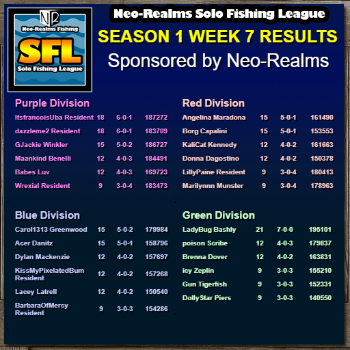 ---
SFL Season 2 Week 6 Results
Neo-Realms | December 31, 2019, 10:00 am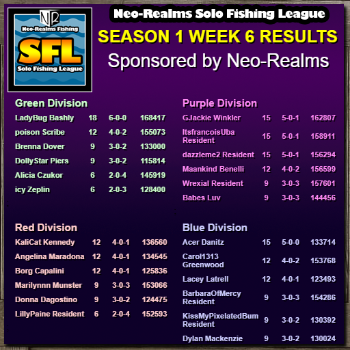 ---