SFL Season 2 Week 2 Results
Neo-Realms | December 4, 2019, 5:12 pm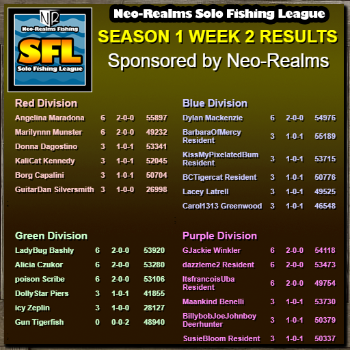 ---
SFL2 Week 1 Results
Neo-Realms | November 26, 2019, 5:40 pm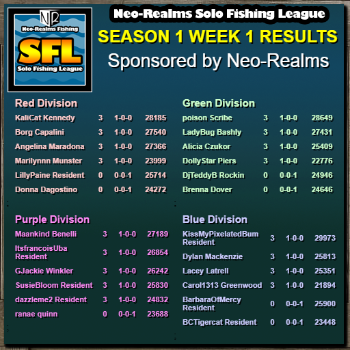 ---
SFL Season 2 has begun!
Neo-Realms | November 17, 2019, 11:10 pm
SFL has begun! Be sure to log into your personal SFL page to check for matches due before next week. All of your matches are available to fish whenever you like for the entire season, so you can schedule around the holidays. Be sure to keep checking for upcoming match deadlines. The first match, unless you have a bye week, will be due before next Monday. Good luck to all the teams!
---
SFL Season 2 Open for Registration
Neo-Realms | October 31, 2019, 8:00 pm
The Solo Fishing League is open for registration! It will have the same format as the TFL, with players competing against other players in their group in a 10-week match format. Registration ends Sunday, November 17th. For more information or if you are interested in sponsoring, contact Sweegy Manilow.
---
SFL Season 2 Registration Opens Soon!
Neo-Realms | September 15, 2019, 11:06 am
SFL Season 2 will be registering soon! If you would like to sponsor the SFL for this season, please contact Sweegy Manilow.
---